This past summer I was fortunate enough to escape the Texas heat and visit family on the island of Kauai!
It's always a treasured time to see them, go to the beach and on long hikes, and experience island time.
Being in Hawaii during COVID was comfortable for us because we were with family and people who were very respectful of safety and space. You can eat outside at so many places. The sun, fresh air, and rest were immune-boosting too. I will always remember how fortunate I was to visit during this life-changing time.
Here are some vegan Kauai staples and some new experiences!
Japanese Grandma's
Japanese Grandma's is in Hanapepe next to Banana Patch Studios and Aloha Spice. They have a great outdoor area behind near the peaceful Hanapepe River. I was introduced to Keiko, the owner. She named the restaurant after her mom but she is now a Japanese grandma too! Her staff was knowledgeable about what items were vegan. Many of their small maki rolls are vegan (avocado, cucumber, natto, kampyo, takuan, ume-shiso). You don't see kampyo (dried gourd) maki very often so I made sure to get that. As far as the entrees available, there was a seared tofu dish with vegetables. I recommend getting the Avocado Poke Appetizer. It was delicious but alas I have no photo! I hope there are more vegan items on the menu in the future…maybe something with kabocha!
Times Supermarket (for vegan Kauai snacks and cooking staples)
It can get expensive eating out on Kauai whether it be a cafe or sit-down restaurant. If we didn't have time to pack up a lunch to bring to the beach, we sometimes will stop by one of the local grocery stores and pick up something from the deli. In Hawaii, the deli has items you wouldn't find in most places on the mainland. Here are some of our favorites: inari, veggie sushi, seaweed salad, papaya salad. (Always look at the ingredients and look out for fish/shrimp sauce)We picked this up at Times Supermarket in Lihue. I suggest looking down the aisles for something new or local. If you have a kitchen, pick up ingredients for a dinner you can cook yourself! It's fun for me to look down the Filipino aisle!

Kauai Poke Bowl
Kauai Poke Co is a new visit on this trip. I wanted the tofu poke bowl but they ran out of tofu and offered me this purple sweet potato bowl. Even better! And I love seaweed salad. It was a perfect lunch after visiting Salt Pond.
The food truck parked at the Warehouse 3540 lot in Lawaii. The Warehouse is full of trendy shops featuring local artists and wares. The Local Beet Kauai had some amazing long-neck red avocados that were consumed before I could photograph them.
Papaya's Natural Foods and Cafe
Papaya's is the quintessential hippie health food store and a vegan Kauai haven. While I love shopping here, it is a bit out of the way for us and Kapaa traffic is slow, slow island time. If you can get one, try the taro tacos (see pic in my previous post)! I suggest taking a look at Safeway which is nearby first for any staples, especially if you are on a budget, and go to Papaya's to splurge on something fresh and locally made from the Hawaiian islands. I love Pono Pies made with breadfruit, Mamaki Tea, breadfruit and taro chips, island-grown kava and chocolate, and more. It's one of the only places I can find li hing mui powder without aspartame and artificial color. My brother-in-law has a landscaping company on Oahu and was telling me about vetiver being grown for erosion prevention. I found Hawaiian grown vetiver essential oil from Vetiver Farms at Papaya's!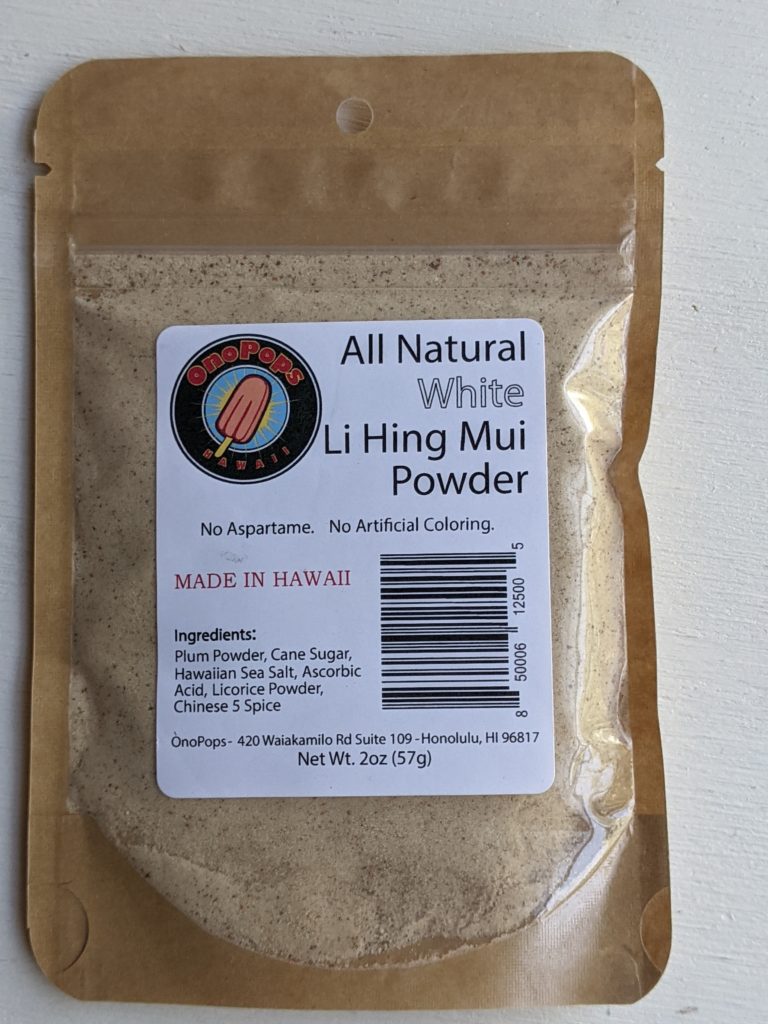 Hanalei Bread Company
I can't find the picture of the beautiful avocado toast I had at Hanalei Bread Co! Such beautiful organic bread and colorful microgreens on top! If you are on the North Shore and plan to hike or snorkel, fill up here in the morning before heading out. I wasn't expecting it to be so delicious but the line around the corner was a clear indication that this was a great spot. Luckily the line moved quickly and I could see why – super organization, awesome workflow, and attention to detail. I'll be back!
Pineapple Dole Whip at Lappert's
Dole Whip is vegan! I love soft-serve and prefer it over regular ice cream. Something about the spiralized, soft goodness and nostalgia from when I worked at an Army base during high school making frozen yogurt cones.
At Lappert's, they had both pineapple and raspberry flavors. The cone isn't vegan though. My daughter also had some chocolate and ube ice cream.
Leahi Health
Leahi Health was new to us on this trip. We visited the Koloa location after a swim at Poipu Beach.
Their bowls are huge and full of so many greens and crucifers to chew. This is the Surfer Bowl with brown rice underneath and a scoop of chickpea-based mock tuna on top. I also had a Green Monster smoothie. I was so full after this meal that I needed a nap!
Russell's Plant Based

Russell's by Eat Healthy Kauai is a full plant-based, vegan restaurant dedicated to the owner's dog and love for animals. The outdoor space is its own magical little world with lots of plants and shade. You wouldn't imagine you are right off Kuhio Hwy on the edge of Wailua/Kapaa. They have something for everyone including vegan classics like TLT (tempeh, lettuce, tomato sandwich) and island-inspired creations. I love Okinawan sweet potatoes so I tried these "samosas" with banana chutney. They were more like puff pastry than samosas but were delicious. A great place to eat lunch after activities on the Wailua River or visiting the Hindu monastery and Himalayan Academy. I highly recommend making a reservation to visit – see beautiful grounds, a rudraksha tree forest, a traditional South Indian temple, and much more.
Verde
On 2 occasions coming back from a long trip (Hanakapiai hike and a visit to the Big Island) we ordered in the car burritos from Verde to pick up on the way back to Koloa.
I highly recommend the Verde Verde burrito (order without cheese). These were full of all kinds of green vegetables(broccoli, green beans, zucchini) in seasoned potatoes with a green chile sauce. So filling after a long day! Again, was so hungry no photo was taken, but here's my power pose on Hanakapiai beach!
Places we didn't go to this time:
Puka Dog – the line was way too long!
7-Eleven

Other places to consider:
COSTCO – Costco in Hawaii has a lot of different things from my store in Texas. There are a lot more vegan frozen items and also more Asian staples like seaweed, yakisoba, local kimchi, and more produce from California – including California-grown avocados (these were tops!)

See the next post – Vegan Big Island Eats 2021

Want to see previous Hawaiian adventures:
Veggie Bytes Hawaii Blog Posts
Favorite Posts:
20th Anniversary with Captain Howie
Kayaking the Na Pali Coast