We have all had a hard year! Even though the change from December 2020 to January 2021 is an arbitrary one from a cosmic point of view, it still is a change in the Gregorian calendar. Like all of us, I felt stress, anxiety, grief, helplessness, and loneliness. But there was also freedom, joy, insight, and community. Reflection has led to gratitude. Besides the love of my family and a few friends, these are some of the ways I coped in 2020.

Abhyanga
I did a whole blog post on abhyanga and how self-massage is a part of my life. Read it here.
Breathwork
I've been familiar with all types of yoga for over 20 years, from ashtanga to Bikram to bhakti-yoga, which is not about poses but a path of devotion.
Breathwork is complementary and is more simple. There are no poses to do, only breath to feel. It's something that can only be felt and not really described.
If you are looking for an embodied practice look into breathwork.
Nationally, I recommend Samantha Skelly with Pause Breathwork.
In Austin, TX there's Shanila Sattar of Always Play Studios.

Coursera – The Science of Well-being
This enlivening course was offered free from Coursera. It came from the most popular course at Yale University with knowledgable and down-to-earth instructor, Laurie Santos. This was more than theory or the latest research on positive psychology and the science of happiness. Each student is to make actual changes in their lives. It got me back on track with a daily meditation practice.
Dance with Day Breaker
Dance has always been something that made my body feel good. I don't need drugs or alcohol to let loose. I don't need choreography to feel comfortable. Daybreaker has brought me joy many Saturday mornings and it will be fantastic when these events can happen in person.
I've seen Gloria Estefan, The Village People of YMCA fame, The Wailers with reggae positivity and many more artists.
Imagine ecstatic dance with a little more urban flavor or going to a club without the sleazy guys trying to hook up with you. It's like a school dance with fun music and themes but you aren't awkward anymore because you can be yourself. Check out Daybreaker and they may come to a city near you in the future!
Habitica
Here's to more gamification! If you like games like I do and maybe have played World of Warcraft or started an online D&D group on Roll20, you'll probably like Habitica. Habitica is a goal and habit app that inspires you to get stuff done. You can set up daily tasks, weekly tasks, and to-do lists and challenges. Want to get points and equipment for remembering to water your plants or clean your bathroom every week? Level up by exercising or meditating daily. This app is for you!
Nightly Walks to See Cat Friends
Going on more walks has helped me stay calm by adding more movement to my day. Sometimes I would go on 3 walks in one day: One to mail ETSY packages, one to pick up mail, and an evening walk. One evening in the summer, we noticed some neighborhood kitties seemed to always be around. My husband and I started to bring some kitty treats. Our cat would come along in her bubble backpack. Eventually, these neighborhood kitties (I named Fluffy and Beaker) knew we would be out and they would run up to us for treats.
Ring Fit Adventure
As a child of the '80s, I love video games! So while everyone was playing Animal Crossing on their Nintendo Switch (I did that for a little while) I was building some quadriceps with Ring Fit. I got Ring Fit Adventure as a holiday gift in 2019. Who knew how awesome it would be to have once all yoga studios and gyms closed. The weight I gained this year has actually been muscle. My weak hands and wrists got stronger from constantly gripping the Ring. The game is so fun and makes doing 30 long hold squats possible because you are fighting a yoga ball called a Puffersquish!
I haven't beat the game yet, but I think I have 2 or 3 worlds left to go!
Charge your squat power! Victory!
Sewing
The last event I went to before the shutdown in March was Quiltcon 2020 at the Palmer Event Center. Luckily, I had picked up a bunch of fabric and sewing notions and felt inspired. Then 2 weeks later I made my first cloth mask! When thinking about food made me depressed I found sewing to be a neutral creative outlet. When friends were surprised that I didn't feel like cooking and couldn't understand why a personal chef didn't want to cook, I just kept sewing. Sewing made me feel like I was helping and I donated over 250 masks.
In addition to masks, I made pillows, shorts, pajama pants, doll clothing, and patchwork, zakka type things. Knitting has been relaxing too. I've never felt that being creative was limited to one medium and I was tired of being put in a box by people as someone whose passion in life is only food. Please know that all people are multi-dimensional and what you might think of as their passion is really something they might have done because they were good at it and people wanted it. So I will continue sewing and cooking! See my ETSY store if you are still interested in cloth masks. KawaYamaMoriHama

Toy Hobby (Blythe dolls and more)
I'm a toy collector. This year has been a jump back to the innocence of childhood and how one can lose the burdens and seriousness of adulthood through creativity and play. I understand this is a privilege and not everyone has had the time to indulge in a harmless or what other people would say is a frivolous activity.
I collect Sylvanian Families and to me, they represent a neighborly village where everyone helps out and it helps me believe in the goodness of others. I've been collecting since I was a girl living in Japan in the 80s. My other main collection is Blythe. Allison Katzman created the Blythe doll, and Kenner manufactured it in the '70s. Photographer Gina Garan took photos of them and inspired Junko Wong to reintroduce them to the world in the early 2000s. I've been collecting these unique dolls since 2008.
I felt lucky to participate in 2 online doll conventions this year, BlytheCon Calgary and Blythe vs Blythe 9 – Dolls of Color. With so many ways to customize including changing hair, eye chips, bodies, and clothing, these dolls are a wonderful creative outlet. I've only received love and encouragement from the Sylvanian Families and Blythe communities. I can't wait to go to another live convention like Blythecon I attended in 2016. Want to be my toy friend?
Check out my IG account: @sylvanianblythe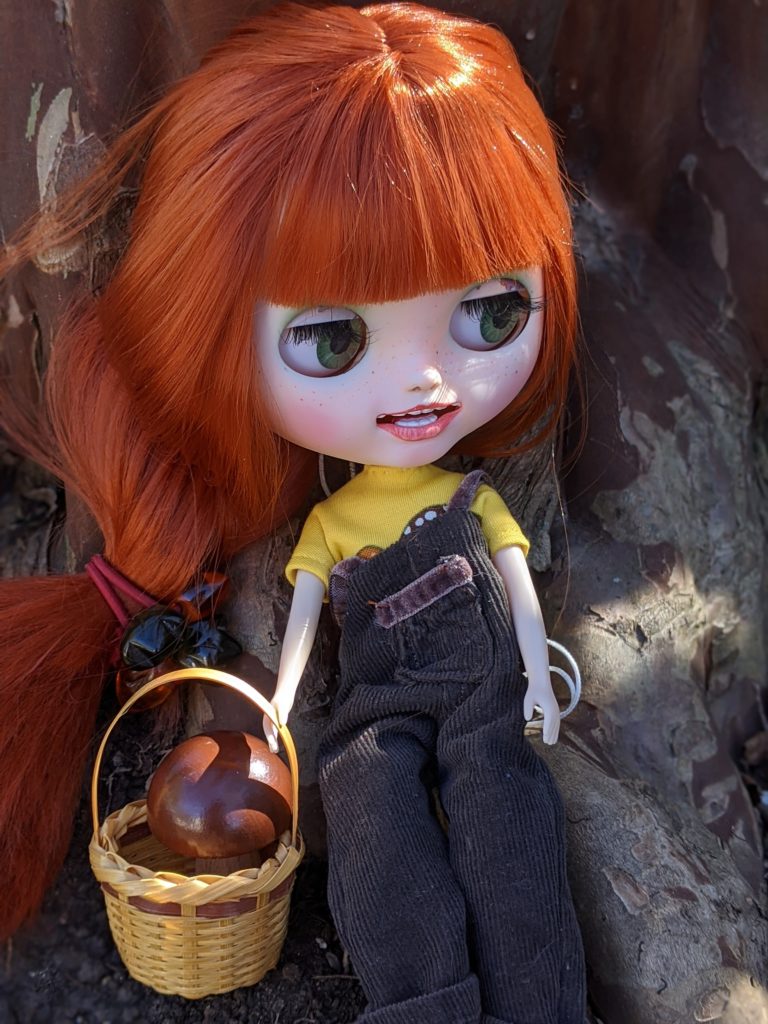 Best Wishes for 2021!
Maybe we connected on a different level than food with this post. I would love to know the ways you coped and how you brought some joy to yourself and others during this year. This is the last post of 12 Days with Chef Veggie – saying goodbye to 2020 series.
I'll be giving you more recipes and some giveaways in January for Veganuary!