Chef Veggie's 2019 Favorites
I hope you all had a wonderful holiday and winter break!
As the decade comes to a close, I like to do a review of this past year.
Here are my favorites! They could be about vegan food, sustainable beauty, a healthy lifestyle or ways I've grown this year.
(This post has some affiliate links but no Amazon links because I want you to shop locally if at all possible or get it directly from the business so they can provide you with excellent service!)
1. 20th anniversary
My husband and I celebrated our 20th anniversary with a trip back to Oahu where we were married. See this post if you would like to read about it.
20th anniversary at Captain Howie's
2. Tane Vegan Izakaya
While in Honolulu, my brother/sister-in-laws treated us to such a delicious evening at Tane Vegan Izakaya. This is some of the most creative vegan sushi I've ever had. The restaurant is also tastefully decorated in a minimalist, rustic Japanese style. It seems like all the beautiful and in-the-know people of Honolulu were eating there! If you are on Oahu for any reason, I highly recommend a visit. They also have tempura, vegan poke, soups, grilled items, and ramen. My picture doesn't do it justice but this roll was called the Manila Dune. Check out that fried renkon (lotus root)!
3. Rose Gold Goddesses
Have you noticed the ongoing shift to recognize the divine feminine? Most ancient cultures revered different forms of a goddess, whether she was an earth mother, a beautiful maiden, a fierce warrior, or sensual seductress.
I found a fun group of women who are celebrating the feminine. It was founded by Sahara Rose whose book, Eat Feel Fresh, I reviewed last year. As someone who has been interested in Vedic philosophy, Ayurveda, Jyotish (Hindu astrology), plant medicine and more, this group has been a lot of fun. Click ROSE GOLD GODDESSES to check it out!

4. Sakara
Sakara is a women-owned, plant-based business offering some of the most creative meal delivery options out there. Geared toward working women who want to glow, I highly recommend them, especially if you are out of Chef Veggie's service range! I tried their 10 Day Reset this past summer before I went to Hawaii for my anniversary. It came with beauty minerals, detox chlorophyll drops, yummy blue spirulina cashew bars, a guide with great recipes, roobois tea, superfood protein powder, and probiotics. No need to do a juice cleanse or go on a calorie-restricted diet! I just found it to be fun to do and to reduce some bloating from eating a bunch of Beyond Burgers!
I still order Sakara Detox Bars and I like their probiotics because they are affordable, shelf-stable, and contain digestive enzymes and candida inhibitors. The Eat Clean, Play Dirty cookbook is fun if you like weird ingredients as I do. If you don't like using adaptogens, fruit powders, eating lots of vegetables, or high vibrational food, there may be better choices for you out there. But is you have an open mind, time, and can buy all the things, you'll probably enjoy it.
5. Loli Beauty
This year I went very minimal with my skincare routine. No more foaming cleansers or lotion-like moisturizers. This was the year of oil and masks.
One company that is making the best and simplest facial care products is Loli. All of their products come in glass (no plastic tubes!)
I love their Plum Elixir. Besides my use of plain sesame oil for abhyanga (Ayurveda self-massage), I have basically just used this as my moisturizer.
The Date Nut Brulee is great for taking off natural mascara.
6. Using 2 Instant Pots
I have been using pressure cookers for over 10 years and can't imagine cooking for clients or at home without them. I've had the brands Fagor and Magefesa (from Spain) and have been happy with the quality of the pots except for the fact that the handles are plastic. When cooking on fancier, commercial-grade stoves like Wolf or Thermador that a lot of my clients have, my handles would often start burning or melting because of the intense heat. Sadly, these pressure cookers are just not going to last because finding handle replacements is very hard. So I bit the bullet and bought another counter appliance, the Instant Pot. And much to my surprise, it has been fantastic. So great that I now have 2! I can make rice and dal for dinner in under 15 minutes.
The inner pots are so easy to clean and fit nicely in my dishwasher.
I'm not recommending that you get 2 but I think that having an Instant Pot or a multi/pressure cooker is an indispensable part of the kitchen!
7. Cuisinart Airfyer Toaster Oven
I wanted to try out an airfryer since I met the Phillips people at SXSW several years ago and they were sharing air-fried carrots. I couldn't justify having another appliance. Then my toaster oven just wasn't working as it used to. I saw this stainless steel beauty and knew it was time for an upgrade. How truly wonderful it is! The Cuisinart Airfryer Toaster Oven is an air fryer/toaster/convection oven! I've made so many things – all kinds of vegetables, a blooming onion, baked cornbread, reheated pizza, dehydrated kale chips and more. The best is just air frying tofu…all you WFPBD (whole foods plant-based diet) people would be proud that I can do it with NO OIL if I want to and it turns out great.
If you are looking for a new toaster or an air fryer, get this because it is both! I bought it at my local Costco for a great price. Call ahead to see if they still carry it. I'll be sharing more recipes using this fantastic machine!
8. Johnson's Backyard Garden
I've been subscribing to Johnson's Backyard Garden CSA small box on and off for several years. It's just so fun to get farm-fresh produce delivered to my front door and to know that I really am supporting a local farmer. My favorite time of year is winter and spring because of all of the leafy greens.
My ramen bowl above features JBG sweet potatoes, scallions, and their awesome purple daikon. I'm still hoping that they will grow more Asian vegetables (CHINESE BROCCOLI!) and partner with a mushroom grower (HiFi Myco would be great!)
If you want a free box, put in my referral code at checkout:
REFERRAL CODE: CSA85926
If you end up subscribing and want recipes for what to make with what you get, contact me on my website: https://www.chefveggie.com

9. Wheatsville
When Amazon bought Whole Foods, I started to notice a lot of changes.
While I do still shop there, I don't want to give Jeff Bezos all of my food $.
Sure there were cheaper prices on some things but they also cut out some smaller, local, artisan food producers. From some of the cashiers I've talked to, the work culture has really changed.
I've been a Wheatsville Coop owner since I moved to Austin 12 years ago and remember having my business name in the Wheatsville Breeze. I have been shopping there a lot more nowadays. It's not crowded, there are always happy people giving out samples or asking if you need anything. They don't give you stink-eye for bringing your own containers. If you don't bring them, they have paper bags! I love the fact that they have a $5 meal on Thursdays with a vegan option for those looking for an affordable dinner. Their newsletter tells you when they have owner discounts and special sales.
They carry great local greens and sprouts, awesome local ferments, Soy Curls, a favorite chocolate bar that I had to recreate (see my Maqui Rose Chocolate), and who doesn't love all of the popcorn tofu (which heats up awesome in my Cuisinart Air Fryer!) or the Austin Cream Pie donut (drool!)
Check out my Finn bread made with GF bread, vegan blue cheeze, and popcorn tofu all from Wheatsville.
10. Booda Butter
Looking for a sustainable, plastic-free, vegan lip balm you don't have to make yourself. Look at Booda Organics Eco Balm. It comes in 3 natural flavors and in a cardboard tube. I love this stuff! And you can buy it at Wheatsville!
11. Dip Dip Dip Tatsuya & Oseyo
I'm always craving Asian food. I ate rice every day growing up so it's in my blood. When I find out there is a new Asian restaurant with some vegan things on their menu, I will drive across town (I hate driving far and during rush hour which is between 8am-8pm!)
Two Favorites this year are Dip Dip Dip Tatsuya and Oseyo.
I had been trying for months to get a reservation at DDDT and I finally got an early one on a Monday in November before Thanksgiving.
It was so much fun! You cook all of your veggies, tofu, and mushrooms in an iron pot. It's not communal because each person has their own, but you share the experience in an intimate setting. It's truly beautiful in there and the service is fantastic. They gave us all the vegan options to choose from. Try the silky tofu, fresh yuba, and of course the mushrooms.
It is quite pricey though! I'm not new to the experience because I ate nabe, hot pot, and sukiyaki as a kid living in Japan.
My mom recently gave me her vintage donabe (clay hotpot) and I've used it twice since Christmas. If you try it out there, it's really easy to do at home.
Contact me for more details and maybe I'll start offering Donabe Nights in homes as a chef service!

Oseyo offers some fantastic Korean food in a rustic setting. Let them know you are vegan and they will give you some great options. If you like mushrooms, I highly recommend the Beoseot which is grilled shiitake, maitake and cremini mushrooms with appropriate sides and banchan.
12. Lao Gan Ma Spicy Chili Crisp
"Sometimes Asian food gets a pass," my husband says. And it's true! I usually eat locally produced and organic food. But when it comes to some things they don't have to conform to those guidelines. That's how I keep from having orthorexia. So yes, I do enjoy MSG from time to time! I'm not sensitive to it any more than you are to eating Parmesan cheese.

There's been research into the idea of people not wanting to eat MSG more having to do with racism and cultural bias. MSG exists in lots of processed foods, not just Chinese food. It was discovered in Japan, the home of umami. I understand people wanting to eat super healthy but don't vilify a substance when you might still eat Doritos, red food coloring, food preservatives etc. Watch David Chang's Fried Rice episode for how Ugly Delicious on Netflix or this presentation on MSG and umami at Mad 2012.
Anyway, Lao Gan Ma's Spicy Chili Crisp is one of the best chili condiments out there. I swear you can eat this with just plain rice and you will feel so happy. This Chinese godmother of spicy, crispy crack is one of the richest women in China after starting her own business after being widowed.
13. High Quality Vegan Sneakers
I actively sought out getting some better vegan shoes this year. I've been loving these Onitsuka Tiger Sneakers from Japan. They are lightweight and provide enough support even going to the gym to do Stairmaster and some bodyweight exercises. They have a whole line of vegan sneakers in different colors and styles. I liked that the Ultimate 81 was mostly fabric and with a rubber sole.

My other sneakers were made by Reebok. The line was called Cotton + Corn. I was looking for creamy sneakers that I could wear in the summer and even with spring casual dresses. They are sustainably made with a woven cotton upper and a molded bottom made from bio-based corn plastic. How cool is that? 3 additional colors are now available.
14. Comrad Socks
More feet related items! I've been listening to a lot of podcasts instead of music while I drive to client's houses. Sahara Rose of the Highest Self Podcast recommended these compression socks. I thought I would try them out because I stand on my feet, sometimes 6-8 hours straight with a minor potty break when I'm cooking for families. These socks are fantastic! No ankle edema after a long cook day! I even gave them away to some elderly family members for Christmas. One cool thing is that they come in great colors! I have some pink ones that match my pink chef coat and some ombre ones that are just so cool. Get $10 off with this link and code: Comrad Socks
15. Backpacking in Big Basin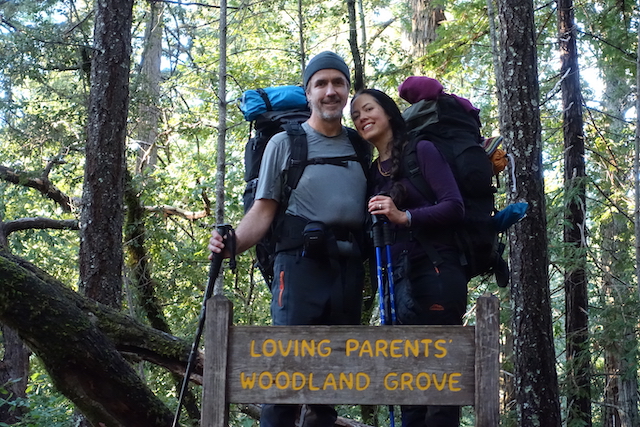 I didn't think to use the Comrad socks while hiking, but I think they would have eased post-hike swelling. I haven't tested them for warmth though.
For those of you who have read my other blog posts would know that my family likes to backpack or sometimes go skiing over the Thanksgiving holidays. We went to Big Basin Redwood State Park and did the Sky to Sea Trail from Castle Rock to Waddle Beach. California has been in a state of drought for a long time but the week we went there were powerful rainstorms. So we were rained on most of the trip. But that doesn't mean there was water in the creeks! My husband had to hike 6 additional miles total and climb down a steep ravine to get water because a map given by the park was incorrect. We've backpacked a lot and know things like this are a possibility so if you are a newbie, make sure you bring enough water. We found oyster mushrooms, saw ancient redwood groves, and ended by the turbulent Pacific ocean. Anyway, if you want more info, leave me a message in the comments.
We were quite wet and hungry by the end and had an interesting meal with Impossible Burgers at Burger King in Santa Cruz. After 4 cold, wet days and having to get on a flight back to Texas, we found a good place to relax and get cleaned up. O'Paradise Spa has a large wet area with rainfall shower, sauna and steam room.
16. The Pig Liberation Party
Even though I've been veg for a long time I still held some biases against pigs and honestly probably still do. I know there are a lot of people who like pigs as bacon so at least I have that going for me.
I did have a great time at the Buzz Mill learning about the pigs at Central Texas Pig Sanctuary. I'm also a big fan of going to places where I can eat anything. I really enjoyed the sandwich from HappeaVegan.
17. Marceline at Austin ComicCon 2019
Growing up in Japan exposed me early on to characters, cosplay, kyaraben, and the whole anime scene. So I have a special affinity to somewhat otaku things, one being the nerdy culture around Comic Con.
I love the series Adventure Time! I've dressed as Marceline so many times and thought, "Why not again!"
I found my own little Fin while there and bumped into Princess Bubblegum.
There was a fun Transformer-like band called the Cybertronic Spree that sang the Thundercats theme in full costume (See my video on my Instagram post). My daughter dressed at Uraraka Ochaco from the popular Manga/Anime My Hero Academia.
Check out my previous post called "Daddy, Why Did You Eat My Fries?" for a Marceline inspired recipe!
18. Inay's 100th Birthday
My grandma turned 100 years old this September and as of this posting is still doing well! I got to see family who came to visit from outside the US and to celebrate her life. My grandma's name is Josephina (we call her Inay because that's what my mom called her – it means Mother in Tagalog – one of the languages spoken in the Philippines) She has lived with my mom for over 40 years so she has been a part of my life since I was 3 years old. We have had our ups and downs and both generational and cultural differences but I'm thankful for all of the meals she made for us and bringing Filipino culture to be part of my life.
She liked to make lumpia, turon, kutsinta, pan de sal, polvoron, putong puti, and siopao so that we would have snacks after school.
She took great pride in being healthy, strong and had great self-care practices – she was always scrubbing with a flat rock from the Philippines and using all kinds of oils. She loved old Western movies and even had an American boyfriend at one point. The picture above shows her smiling with about half of her great-grandchildren, including my teenage daughter. We love you Inay!
19. Anima Mundi
2019 meant learning more about herbs, adaptogens, and plant medicine and I hope to continue to learn more in 2020. I'd already been experiencing Tulsi both spiritually and medicinally for a long time as it is sacred to Vaisnavas. I've been taking ashwagandha, triphala, dashmula for about 4 years after having them recommended to me by my Ayurvedic doctor for my constitution. Plant medicine from South America and the experience of shamanism is something that is new to me. Adriana Ayales of Anima Mundi shares many that I had never heard of.
Mucuna pruriens or Kapikacchu in Ayurveda, the dopamine bean is a great mood and nervous system balancer. As someone who is an avid and colorful dreamer, I was interested in her lucid dreaming herbs. I've been drinking the Blue Lotus tea occasionally on the weekends when I can indulge in better sleep.
The Blue Lotus was sacred to the ancient Egyptians. Since I'm not into alcohol or recreational drugs, these mind-opening herbs are an interesting way to feel or experience something different. I did get some itchiness from the Blue Lotus Tea but also calm happiness or euphoria and then some brief experience of being in control of my dreams. I hope to do more in the new year and drink some calea sacatechichi that was included in my dream kit, along with Palo Santo essential oil, a dreaming tea blend, and a dream tonic/elixir.
20. Insight Timer
Wow! You made it this far or were smart at skipped to the bottom of this long post. You must have patience or really like me!
Anyway, I've been working on a healthier mental state of confidence, worth, and also knowing more about what I really like. That's why making this list was so important even if no one reads it.
I participated in a 10-week meditation course with other parents from my daughter's high school where they have a mindfulness director.
I have done japa mediation for many years and pranayama and yoga but never much of a seated, quiet practice. I wanted to do a 10-day Vipassana course but felt unprepared to jump in. I found Insight Timer and it was a great way to jump-start my daily practice. I usually just use the timer for 15 minutes in the morning for silent and then do untimed japa meditation. I listen to talks in the car or nature/ambient music when I take a bath. There is also some great 432mHz binaural beat music on there too.
Maybe you'll find me there!

I'm happy to have grown in insight, tenderness, and experienced another year! The cookbook is still in progress. That's another post…. Happy 2020!