I love the smell and flavor of ROSE! I believe it's a way to add beauty to my life every day. Don't make Valentine's Day the only reason for roses. Long-stemmed roses that have been sprayed and available everywhere wouldn't be my choice for a gift. I think a mini rose plant or rose scented body products are nice. I love to enjoy a gift longer than a week.

Do you like to make your own body products? I make my own rose toner with Cortas Rosewater with a few strands of saffron in a cobalt glass spray bottle. Super affordable and refreshing for the skin!
I really love rose flavored chocolate. Sweet floral decadence!
I've made rose petal chocolate before but I wanted to add a creamy center. My fruit, flower, and veggie powders came out to play!
I made a coconut butter mixture with the powders of maqui berry, beet, and rose. You could also use other magenta powders like pomegranate, pitaya, acai etc. I powdered the rose petals in a clean coffee mill I use as a spice grinder.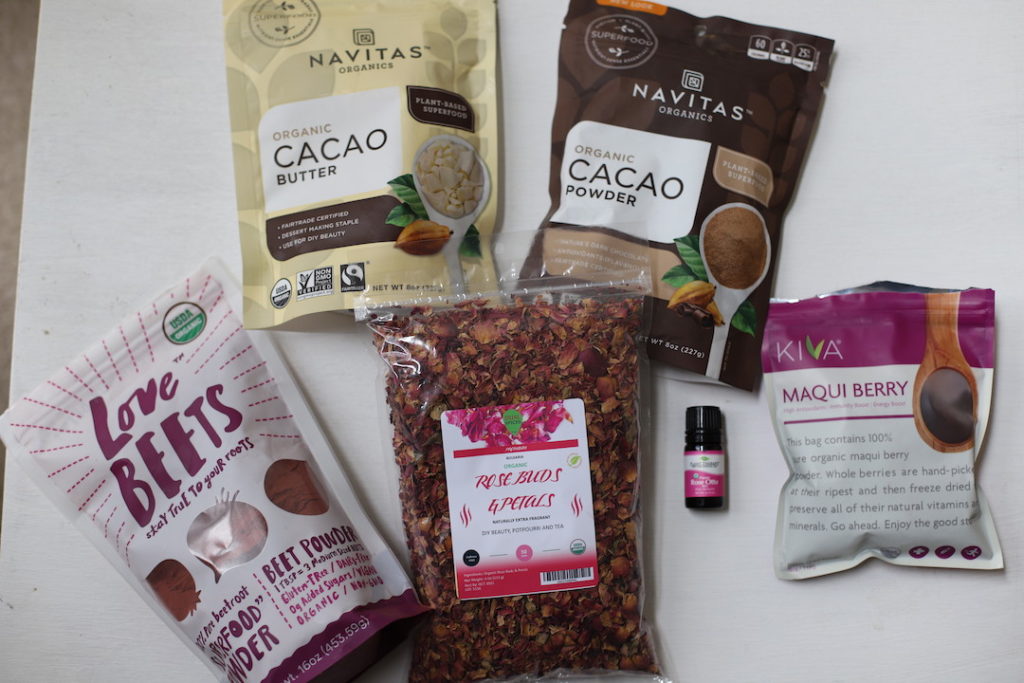 Anyone who loves a sweet, floral flavor will find this chocolate so soothing. Rose Essential oil is something you can continue to use in your own body care products. If you are Pitta dosha, need to foster self-love, or know anyone who needs heart-opening, some rose can help!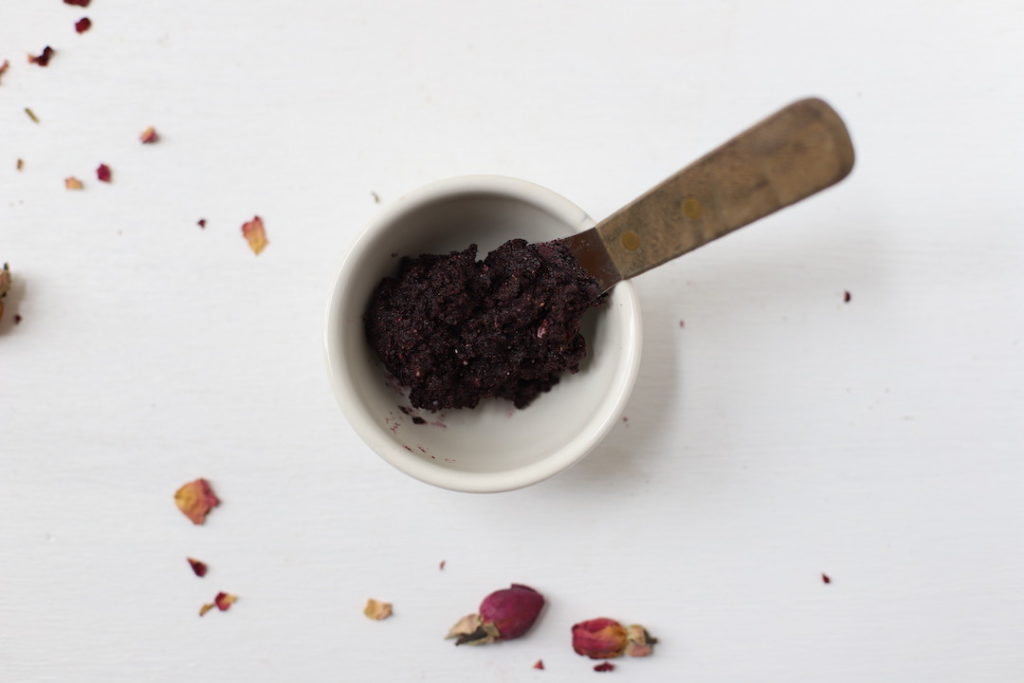 J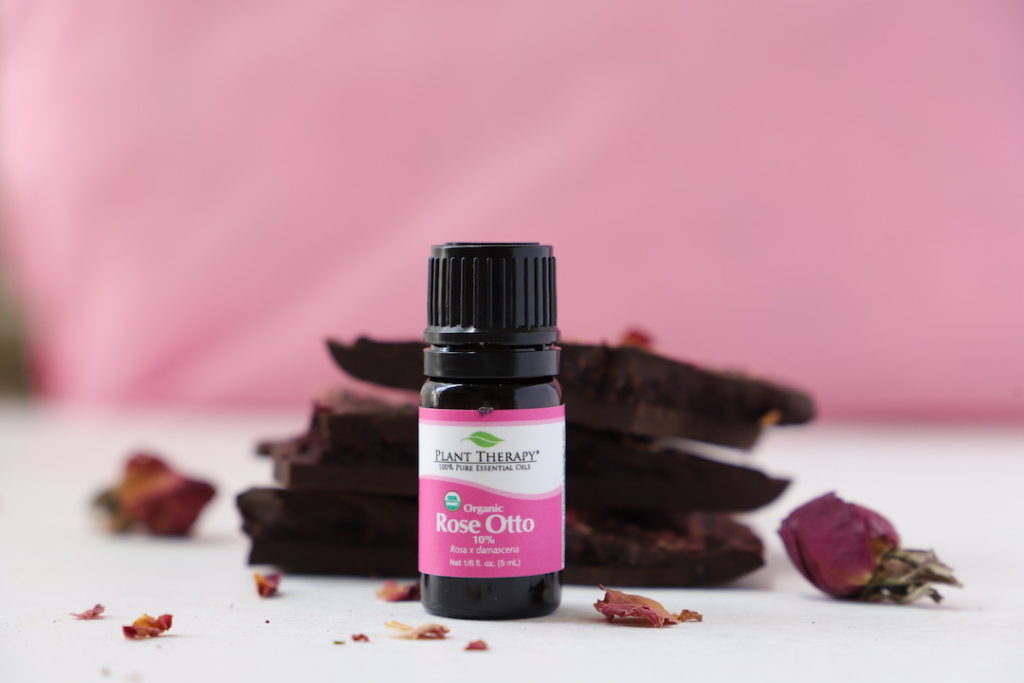 Vegan Rose Maqui Chocolate
Vegan Rose Maqui Chocolate made with the best quality ingredients! No refined sugar, dairy and is gluten-free. Flavored with superfoods and pure organic roses and rose otto essential oil.
Ingredients
Chocolate
1

cup

cocoa butter

organic

1/2

cup

cacao powder

raw

1/2 cup

cup

cocoa powder

natural, not alkalized

1/4

cup

maple syrup

1

tsp

vanilla extract

2-3

drops

organic rose essential oil
Filling
1/4

cup

coconut butter

1

TBSP

maqui powder

1/2

TBSP

beet powder

2

TBSP

maple syrup

1

TBSP

rose powder

1

drop

organic rose essential oil
Instructions
Make the filling
Measure the filling ingredients into a small bowl that can hold 2 cups.

Pack coconut butter into a 1/4 cup.

Add to the bowl along with all the powders.

Use a small spatula/scraper to mix this well.

Add the maple syrup and the 1 drop of rose oil.

Mix thoroughly until a thick, smooth paste forms.
Prepare the chocolate

Place a small saucepan on low and heat up the cocoa butter, about 3-4 minutes.






Remove from heat and add the remaining ingredients for the chocolate.


Use a spatula to mix and scrape down the sides.
Make the bars
Take a small baking sheet pan or Pyrex dish and line with parchment paper. It shouldn't be bigger than 8 X 8 inches or equivalent.

Larger pans will make very thin bars, a smaller container will make a thicker bar.

Pour half of the chocolate into a uniform layer, using a spatula to make smooth.

Place in the fridge or freezer until this layer is hard.

Once hard, use a smooth spatula to spread the maqui rose filling in the center of the chocolate leaving a 1/2 border of chocolate.

Make it a smooth layer. Pour the remaining chocolate on top and use the spatula to smooth.

Sprinkle with rose petals!
Special Tips!
Coconut Butter – You can make your own by using a food processor to break down dried coconut strips.





Maqui Powder – You can also try acai powder, pitaya powder, pomegranate powder, raspberry powder!

Rose Essential Oil – Get organic! Use only 1 drop if you want a more subtle rose flavor and no more than 3 drops.

Rose Petal Powder – Take organic dried rose petals and using a clean coffee grinder for spices, process them until a powder forms. Make sure your grinder is clean (no chilies etc). Or you can be a badass and grind your own powder in a mortar and with a pestle.
See some of my previous Valentine's Day related posts:

Dragonfruit White Chocolate
This post contains affiliate links. Thanks!