The day we left Kalalau was another gorgeous morning with the glorious sun.  The beach was not hot yet so I took a walk with my sweetie. We noticed lots of paw prints in the sand too.  There are feral kitties hunting sand crabs.

It's a little hard to cast off into the waves.  Sean helped Ryan and Kimberly and I'm so glad they didn't tip! Luckily, we picked more of a lull in the waves and I paddled while Sean hopped in. We said goodbye to the beach and all those who continue to live there. We paddled past Honopu Beach and its beautiful arch.  Boats and kayaks aren't supposed to land here. You can swim to it if you are an expert swimmer with fins and aren't afraid of swimming in the open ocean.
Nualolo Kai
We paddled to Nualolo Kai. It was smooth sailing.  Parts of the ocean were like glass!  We tied our kayaks to a rope and did a little bit of snorkeling near the shore.  I saw a lot of live coral which is something you don't see at Poipu Beach as people are always stepping on the reef.
Miloli'i
We left Nualolo Kai and kept paddling to reach Miloli'i, where we would set up camp.  We arrived at the beach to all to ourselves.
There are 2 pavilions on the beach where you can set up your kitchen and take some time out of the sun.  We put our tents nearby.  Kimberly and I found the shower building and were able to use it and wash the sand and seawater out of our hair.
It was nice to be able to comb and get all the knots out after a couple days.  The water that came from the faucets was definitely stained red from the cliffs above and needed to be filtered.  Our manual filter broke so we relied on the UV one.  I'm so glad none of us got ill. The pavilion we stayed in had lots of biting insects. Perhaps they were sand fleas or sand flies?  That was the only annoyance of our stay there.
Miloli'i is a very quiet beach once all the boats that pass it on coast cruises have sailed back to their normal ports.
The waves don't break hard so our landing and launch were smooth.  Lots of shells wash up on the beach and I was able to gather quite a few whole cowries to take home.  I have made a bunch of hairclips and they are on Etsy. My mother-in-law liked to collect shells and that's something that makes me remember her and her love for this island.

A gentle monk seal gets to take a break on the beach.  They are a protected species so we gave it lots of space. Sean and I took a swim as much as we could while we were in this private place.

We had our vegan chili with rice and peach cobbler and enjoyed the evening.

The sunset was so quiet and amazing. No loud party goers, drunk people, or music.  The view of the stars was the most spectacular I had ever seen in my life.  No light pollution to speak of. I feel really fortunate to have had the experience and I wish that those who would love to feel that too find a place in this world they can.  I know it doesn't have to be Kauai.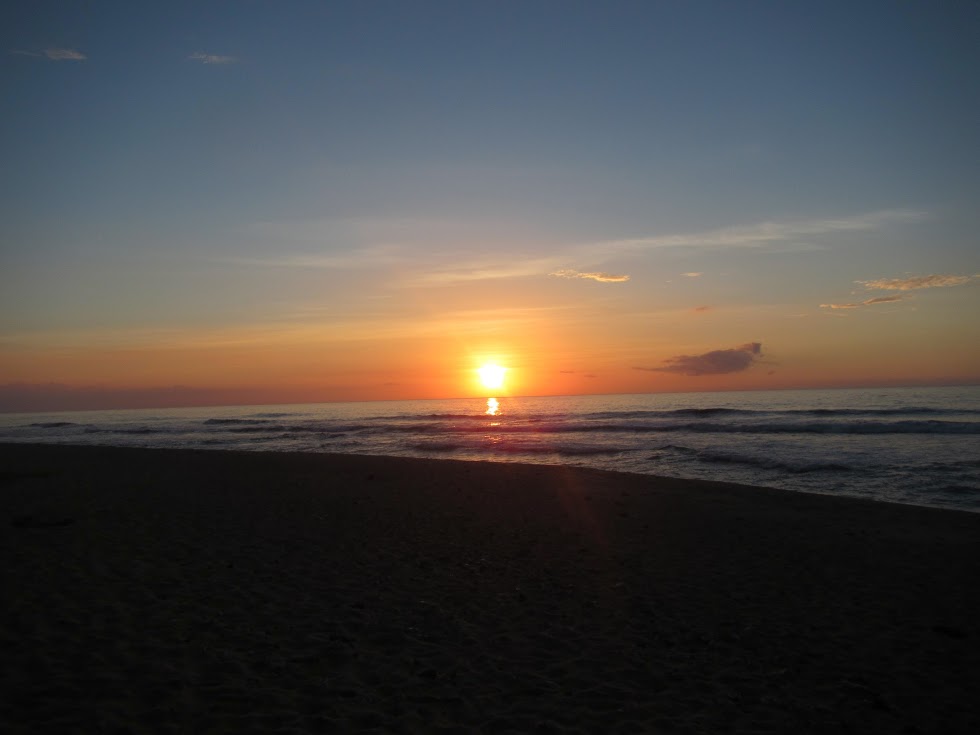 When we woke the next morning, we were nice and refreshed for the last leg of our trip to Polihale. On the way back we came across a school of dolphins!  Being in a kayak is a lot different than being in a boat.  When a dolphin swims past you, you are so close you can feel the shift in the water. We also saw a great big honu (sea turtle).
Polihale
Our trip ended on a Saturday, so Polihale was crowded.  I eyed the beach and saw that there were not many places to land.  By the time we arrived, the wind had picked up too.  There were keikis (kids) on the beach and fishermen who cast out they lines and left their poles in the sand.  We saw a stretch of beach where there wasn't anyone.  We tried to time the waves so that we would sail in nicely.  Unfortunately, that's not what happened. As we came toward the beach, a large wave was about to break and push the back of the kayak that had Sean in it up.  Our kayak flipped vertically.  I tossed myself out remained underwater as I tumbled for a while,  hoping that when I came back up I wasn't going to be hit in the face.  Sean said he was thrown out and hit the bottom of the beach on his right hip as the waves crashed. Ouch! Even our wetbags were floating in the surf.
I'm still thankful that all I lost was a hat and sunglasses.  Kimberly's face was in shock as she said she watched the whole thing and was so glad we were all right.  Their landing was a lot smoother and I'm glad. The locals seemed to not notice a thing, so maybe it wasn't too bad.  The sun and sand were so hot!  We piled all our stuff and carried the kayaks up to wait for Miguel.  We took a beach shower and ate our BBQ soy curls.
On the van drive back with Miguel we were exhausted but cheery.  We are thankful for the experience and our lives.  These kinds of adventures make you appreciate your abilities and also help you realize your worries at home are often mundane.  All we need is food, water, shelter, warmth, and love.  Much ALOHA to you!