It's Fermentation Friday again! We have just about finished all of our fermented items from late September and it's time to ferm up a bunch of new things. I still have a bit of kimchi left and lots of different brines – red onion, sauerkraut, kimchi. I made a killer simple ramen with just kimchi brine added after my final boil.
In my search for more local places for fermentation finds, I found out about SoCo Homebrew on S. Congress near Stassney. They are a relatively new store. They have a small fermentation area near the front and offer some crocks and an airlock system.
They have various cultures from Cultures of Health. I purchased a San Francisco Sourdough culture and I'm hoping to make bread again soon.
Remember that bread is a fermented product…you just happen to kill off the cultures when you bake it.
Finally I got some pickle weights. I needed a few after my green bean failure in September. There are lots of different ones online but they seems quite pricey. I did like some of the hand-stamped ceramic ones I saw on Etsy. Cultures of Health also has ceramic pickle weights which I picked up for a decent price – $4.99 each.

If you are into beer and fermented beverages and live below the river, this will be a convenient South Austin location. They have lots of rubber stoppers, airlocks, growlers, bottles etc. The staff is super helpful, friendly, and knowledgeable. Thanks guys…I'll be back for water kefir grains!
So here is what I have started this week:
You would think that pepper season was long gone, but in Central Texas they are still growing. We have lots of jalapenos, Thai bird chilies, and Tabasco in our garden. Tecolote Farm has been sending beautiful red Italian sweet peppers, habaneros, pecan smoked New Mexican chilis (What a treat!!!) and much more! I am so thankful for this farm!
Giardiniera – Organic cauliflower, carrots, celery, garlic, cayenne peppers from local farm, basil from our garden.
To keep the small bits from floating up, I put larger cauliflower pieces at the top, held down by 2 celery sticks wedged in in a cross formation.
Escabeche – Jalapenos from our garden, Toro red bell peppers from Tecolote Farm, organic onion, garlic and a white carrot. I am using my new pickle weight here!
Mustard – I'm trying out black mustard seeds to see how the flavor compares to brown and yellow. Right now the seeds are soaking in sauerkraut brine.
After the seeds are soft, I will blend it with some fresh turmeric and let is sit another couple days.
Fire Cider – fresh turmeric, ginger, garlic, bottled shredded horseradish, local cayenne peppers, and apple cider vinegar.
This is an old folk remedy. The strained liquid is then mixed with honey for an immune system tonic. My goal is to let it sit until the end of December.
Maybe it will be a holiday gift to me!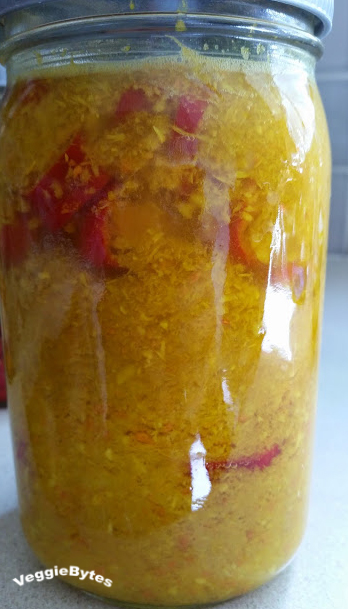 Doesn't that look like it's full of some potent goodness! Fresh turmeric is such a gorgeous color!
What are you fermenting lately?
Warm Wishes,
Cristina